It's been almost a year since I last posted a roundup of content I've enjoyed elsewhere on the web. So, without further ado, here's a small selection of articles and podcasts about Paris that I think you might like.
Paris leading the way on climate action
Climate plan
On the podcast Reasons to be Cheerful, former British leader of the opposition Ed Miliband and veteran broadcaster Geoff Lloyd look around the world to "explore the ideas, people and movements solving the biggest challenges facing society". Against the backdrop of the COP26 climate talks in Glasgow, one recent episode looks at what some of the world's cities are doing in the face of the climate crisis. Among them is Paris, recently recognised as a Climate Leader in the UN Global Climate Action Awards.
Geoff spoke to deputy mayor Célia Blauel about the city's comprehensive plan for climate action. The brief interview (start at 39:41) touched on the concept of the 15-minute city and the proposed transformation of the Champs-Élysées. One fascinating thing I learned is that the impetus for this transformation came largely from the avenue's business owners. It's great to see them acknowledging the benefits of making streets more walkable and pleasant.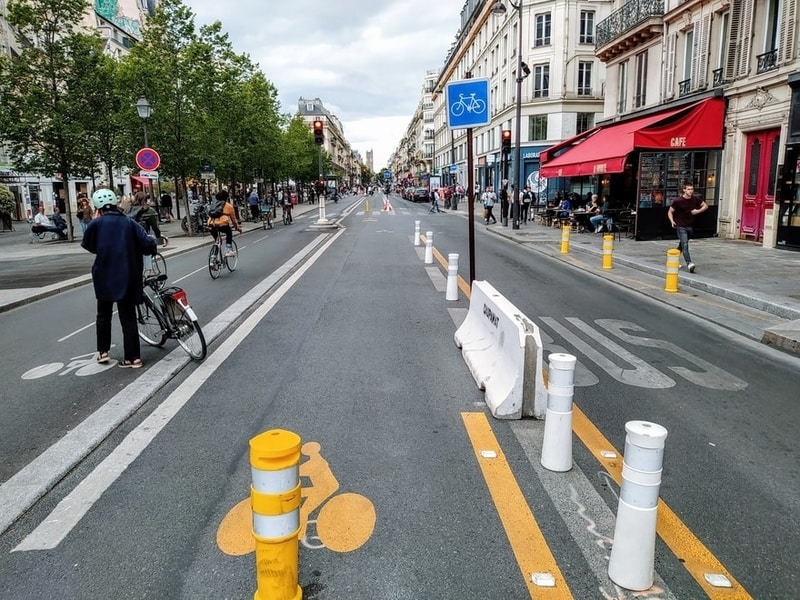 Bike plan
Perhaps the most high-profile policy of the current Parisian administration concerns bikes. Last month the city announced its ambitious new five-year bike plan, including a tripling of the number of cycle parking spots and 180 km of new permanent cycle lanes. The latter include the 50 km of coronapistes – temporary cycle lanes installed during the pandemic – which are set to swap their yellow plastic wands for more durable infrastructure.
Feargus O'Sullivan's writeup for CityLab is positive, but nuanced, rightly noting that much of Paris's existing cycle infrastructure leaves a lot to be desired. In places, cyclists ride alongside cars and lorries with nothing but a painted line for protection; elsewhere, pedestrians are forced to share limited pavement space with bikes.
O'Sullivan also references a recent New York Times piece about the conflict between cyclists and pedestrians. This article has been widely ridiculed – with reason – for playing up the danger of bicycles while ignoring much deadlier vehicles. But it is true that far too many people on bikes wantonly ignore traffic lights and pedestrian priority, and it can be scary and frustrating for people on foot. The huge increase in cyclist numbers over recent years, and especially since the pandemic, has brought these issues to the fore.
Vélib to London?
Speaking of bikes…
I discovered this one recently, but it's over a decade old. In August 2011, Ian Mansfield of London website ianVisits took a day trip to Paris with a friend. The twist: they did it with a pair of "Boris bikes". London's cycle hire scheme is intended for short journeys, but it's possible to rent out a bike for up to 24 hours. They loaded the unusually heavy bicycles onto the Eurostar, rode to a number of Paris's key sights, took some photos, and then journeyed back.
All of this got me thinking: what about the other way around? If anyone from Eurostar or Vélib (the Santander scheme's Parisian forebear) happens to be reading and wants a bit of fun publicity, hit me up! I would love to reciprocate Ian's day out.
Pneumatic tubes
In other decade-old content that I only recently discovered, the wonderful 99% Invisible is a podcast about "the unnoticed architecture and design that shapes our world". This is a part of what I've tried to do at Fabric of Paris: linger on the stories of parts of our urban infrastructure that form the backdrop of daily life, but that don't tend to grab our attention. Roman Mars and the rest of the 99PI team do this on a much wider scale, and with wonderful sound design to boot.
The series is still very much current, and I thoroughly recommend it. But working through the 400-odd back-episodes, I found this gem from back in 2012 about pneumatic tubes, which were a common way to send and receive information in cities around the world until modern technology superseded them. Paris's network, installed in the city's sewers, was one of the most impressive, and persisted until the 1980s. Part of it survived until 2004! I'd love to write about these myself one day, but in the meantime, this episode is well worth a listen.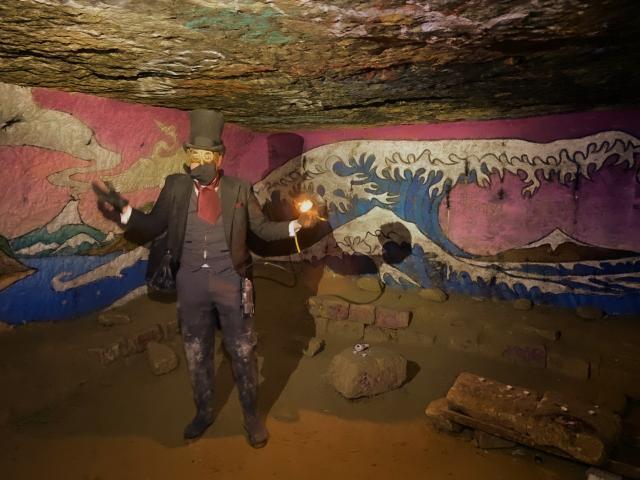 The catacombs
Staying underground: in a recent episode of award-winning Paris podcast The Earful Tower, Oliver Gee descended into the part of the catacombs you're not supposed to enter, together with street artist Codex Urbanus and enigmatic tour guide the Comte de Saint-Germain.
The catacombs, a vast network of tunnels and disused quarries, are famous for the museum where visitors can view the rehoused bones of thousands of Parisian dead, moved there when the Holy Innocents Cemetery was cleared in 1786. But the greater part of the underground labyrinth is closed to the public, with trespassers liable to a small fine. It's also very dangerous to go down if you don't know what you're doing. That said, a community of "cataphiles" is known to explore the catacombs. Oliver's companions have made the trip a number of times and had plenty of tales to regale him with. Thanks to his microphone, we get to be flies on the damp stone walls to some of these fascinating conversations.
Without wishing to incriminate myself, it brought back some wonderful memories of my first visit to Paris, when I joined a group of people I'd just met to eat fondue and watch art films until the small hours.
Over to you
Seen or heard anything lately that you think other Fabric of Paris readers might enjoy? Let me know so I can include it in a future roundup.