Paris is liberally scattered with examples of disused transport infrastructure, from railway stations and warehouses to car parks and road tunnels. In this series I'm looking at how some of these are being put to other uses. In the last post I looked at parks; today let's take a look at museums and other cultural spaces.

Musée d'Orsay
The pioneering Gare d'Orsay railway station was built as a new terminus for the line from Orléans, which previously terminated at the Gare d'Austerlitz. At its 1900 opening – in time for the Exposition Universelle – it was the only electrified urban terminal station in the world. Unfortunately, however, its days were numbered, as its short platforms meant that more modern long-distance trains couldn't stop there and switched back to terminating at Austerlitz in 1939. The station's hotel (incorporated into the building) remained open longer, closing in 1973. The main part of the station, meanwhile, saw sporadic usage, as variously the site of a film set, a theatre, and a storage depot for an extraordinary charity drive for the homeless.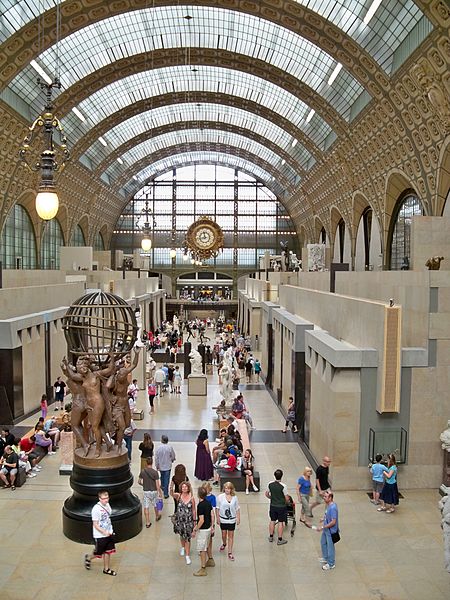 During the presidency of Charles de Gaulle, it saw its existence threatened, but local campaigns saved it and it was given new life thanks to three subsequent presidents: Georges Pompidou, who first approved the idea of turning it into a museum; Valéry Giscard-d'Estaing, who set out the first concrete plans and attributed money to the project; and François Mitterrand, who made it one of his "Grands Travaux", committing more funds and seeing the project through to its opening in 1986. It's a project that would never have succeeded without the cooperation of all three of these presidents, as Mitterrand recognised. Today, it is the third most visited art museum in France, ranking 16th worldwide.
Musée du Louvre
Mitterrand's Grands Travaux were eight monumental architectural projects which aimed to transform Paris and leave a lasting cultural legacy. As well as works like the Musée d'Orsay, which had been initiated by his predecessors, Mitterrand and his culture minister Jack Lang also led new projects, most famously the "Grand Louvre". This huge initiative involved moving the Finance Ministry, which occupied a wing of the Louvre palace, to a new site at Bercy, and (crucially for this article) relocating a coach parking area in the Cour Napoléon to replace it with a new entrance to the museum: the Louvre Pyramid.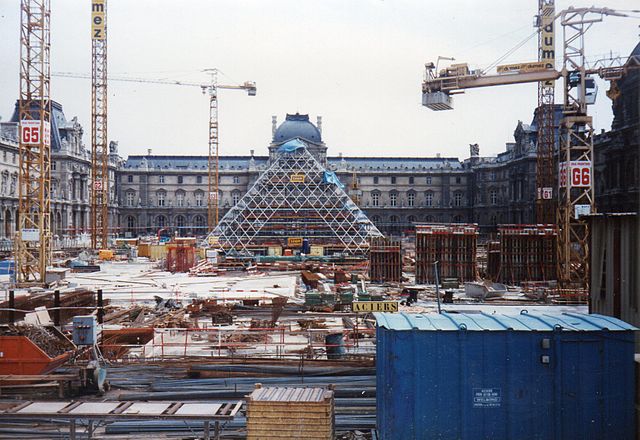 The pyramid was very controversial: many didn't feel that its modern style complemented the traditional architecture of the palace. It also drew criticism for having been designed by a foreigner, the Chinese-American Ieoh Ming Pei, and for being a symbol of death. However, the pyramid is now beloved of tourists, and the museum's visitor numbers have more than tripled, to 10.2 million in 2018: the most visited art museum in the world, and one of Paris's most visited attractions. I hope anyone would agree that the pyramid looks better than a car park.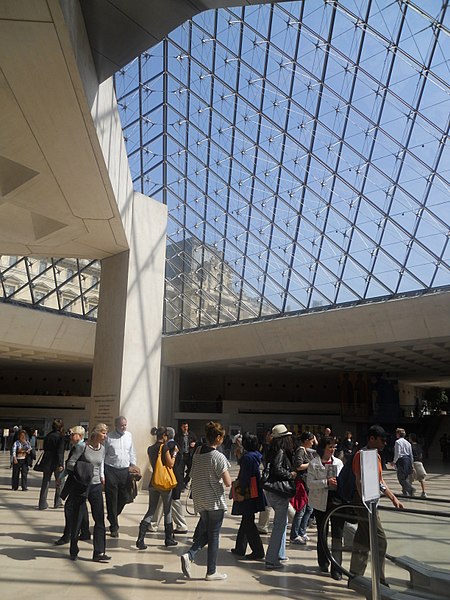 Les Frigos
In 1921, in the 13th arrondissement next to the railway lines into Austerlitz, the Compagnie Ferroviaire de Paris-Orléans built a "gare frigorifique", or refrigerated warehouse, for storing food transported into Paris by rail. This food was on its way to Les Halles, a vast wholesale food market in the centre of the city. But in the 1960s, when this market was moved to a larger out-of-town site (the Rungis International Market), the warehouse lost its raison d'être.
Abandoned, the Frigos ("fridges") began to crumble, until in 1980 owners the SNCF agreed to let out a small number of spaces to artists. However, the building was not fit for purpose, lacking basic amenities like plumbing and electricity, and was slated for demolition. It wasn't until 1985, when the SNCF passed the property management to a third party company, that the site's future began to look a bit more certain. The new company found new tenants, who over a period of several months transformed the building to bring it up to standard, installing everything from windows and internal walls to heating and toilets. This period, in which the tenants began to get to know each other, proved very important: in subsequent years, during a period of rapid development in the area, they have had to band together to resist demolition efforts.
Today, 200 artists occupy 90 workshops and studios. While visitors can see the building from the outside any time, the workshops themselves open their doors for a weekend every year, usually in May.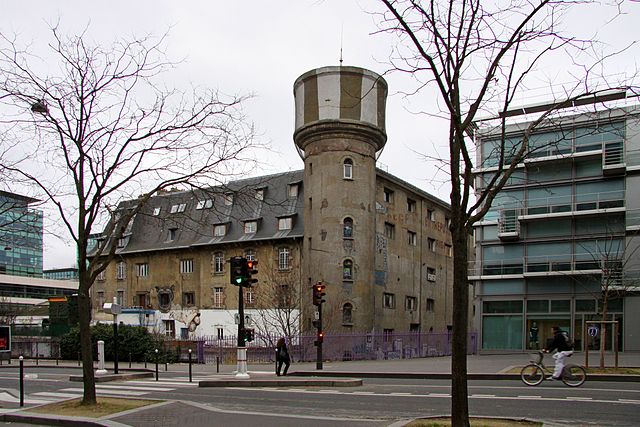 Les Docks : Cité de la mode et du design
The "Magasins Généraux", on the banks of the Seine near the Gare d'Austerlitz, were storehouses built for merchandise on its way between the river and the railway. Commissioned in 1907, their architecture was daring, consisting of bare concrete: a departure from the conventions of the day. But after their heyday in the early 20th century, they fell into disuse, until in 2005 a plan was approved to turn them into a new complex called the Cité de la Mode et du Design.
This building houses the Institut Français de la Mode music venues, bars, and for several years also played host to Art Ludique, a museum of contemporary art from the entertainment industry. The concrete structure remains, but has been decorated with a green "skin", made of metal and glass. It's hard to miss from the river, especially at night.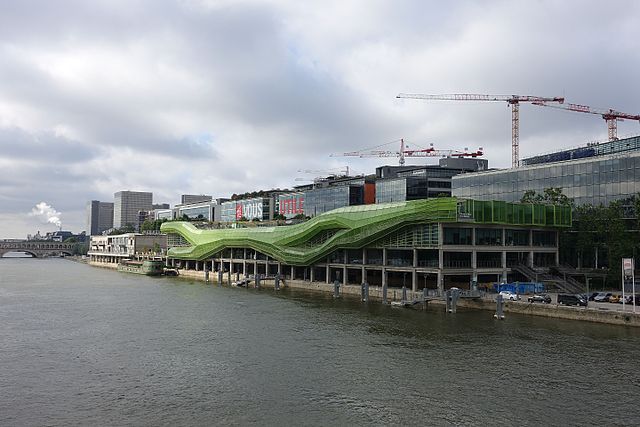 Magasins généraux
The Canal de l'Ourcq was built in 1822 to provide Paris with fresh water as well as a transport route for boat traffic which avoided the Seine. It is now used as a navigation only for pleasure craft, but it still provides water for non-drinking uses such as cleaning the sewers and parks. Before entering Paris, the canal passes through the suburb of Pantin, which in the interwar years became an important port. As part of this, the Chamber of Commerce and Industry built two large warehouses between the canal and the railway to store grain and flour.
By the 1970s, the warehouses were no longer fit for their original purpose, and activity began to wind down until their closure in 2001. Abandoned, they became a magnet for graffiti artists, transforming into a sort of informal art gallery.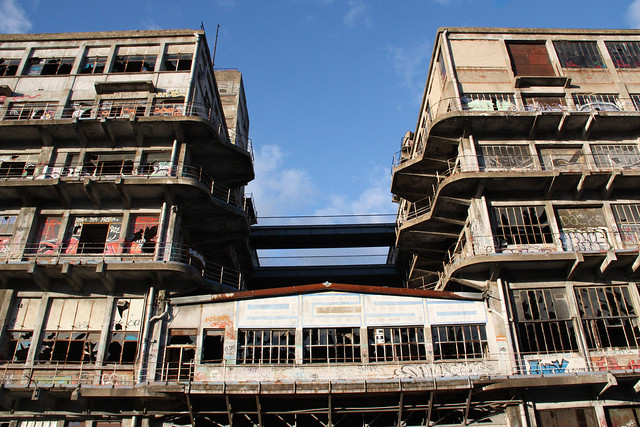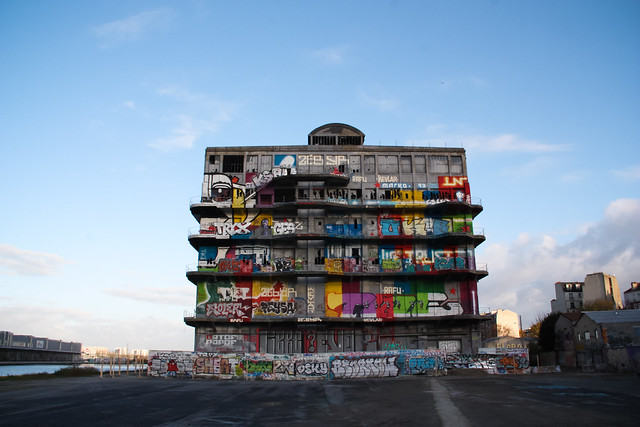 From 2013, they were refurbished, before reopening in 2016 to house a diverse range of cultural businesses and organisations, including advertisers, podcasters, art organisations, and a record label. Also occupying a part of the building is "Dock B", home to restaurants, a bar and an events venue.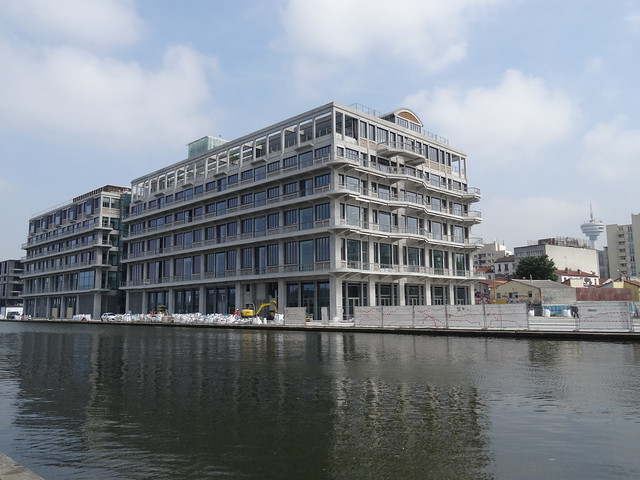 Gare des Mines
The Gare des Mines was built in 1925 by the company Anthracine-Sphéra to bring coal to Paris from its factory in Nœux-les-Mines, in the industrial north of the country. The first station was demolished in the 1960s to make way for the boulevard périphérique, and rebuilt 100 metres away. This new station had a short life, as the company ceased trading in 1983.
Since June 2016, the building has seen new life as La Station, an electronic music venue and a form of incubator for creatives of various kinds: musicians, visual artists and writers.
Petite Ceinture
In last week's post I mentioned the Petite Ceinture, a mostly disused railway running in a loop around Paris, as a source of urban parks. But that's not its only legacy. Many of the station buildings avoided demolition, and after closing in 1934, some now see use as cultural spaces.
In the north, the Gare de l'Avenue de Saint-Ouen, opened in 1863 and rebuilt in 1889, has seen a number of uses since its closure as a station. From 1938 to 1955, it housed a cinema; from the 1970s, it was occupied by various shops, mostly discount stores. Since 2017, after extensive building work, it is now home to Le Hasard Ludique which hosts live music, DJ sets, and events ranging from yoga lessons to improv classes to djembe workshops.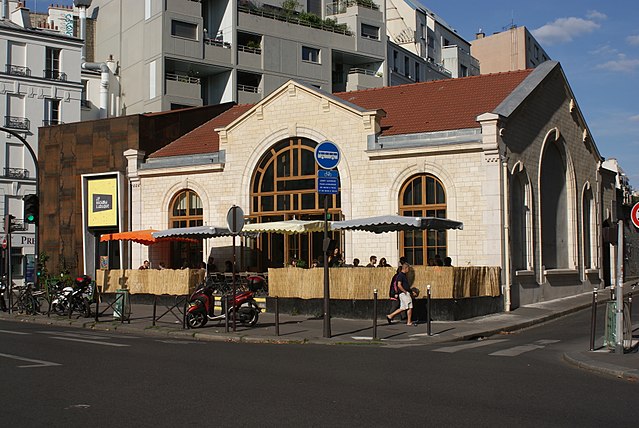 In the north east, the Gare du Pont de Flandre has been used in the past for housing and as an artists' squat. Today, it houses a bistro, imaginatively named La Gare, with free live jazz concerts every evening.
In the south, the Gare de Montrouge-Ceinture, a beautiful octogonal red-brick building, reopened in 2018 as Poinçon which serves food and drink, hosts live music and, every Thursday evening, welcomes a farmers' market.
More
In this article I've focused on buildings that have avoided demolition. If I had included new buildings constructed on land that used to belong to transport, the list would have been a lot longer! A couple of honourable mentions for two of Mitterrand's other Grands Travaux:
The Opéra

Bastille

, a modern opera house, stands where the terminus of the Ligne de Vincennes once stood. The railway line itself is now famous as the Promenade Plantée.
The Bibliothèque François

Mitterrand

, France's national library, sits above the site of the Gare de Paris-Tolbiac, a vast freight station alongside the line to Austerlitz. The library, whose four towers represent open books, was part of a wider urban regeneration scheme in which a large area of railway lines was buried.
And in the future? While projects on the scale of the Grands Travaux are very unlikely in the modern political climate, I'm sure we can expect more of the kind of smaller transformations we looked at here. Open-air theatre on the Petite Ceinture? A cinema in a road tunnel? A night club in a car park? Watch this space…