I'm no bus spotter. I can't tell an Heuliez GX 337 from a MAN Lion's City. But something like this will surely catch my eye: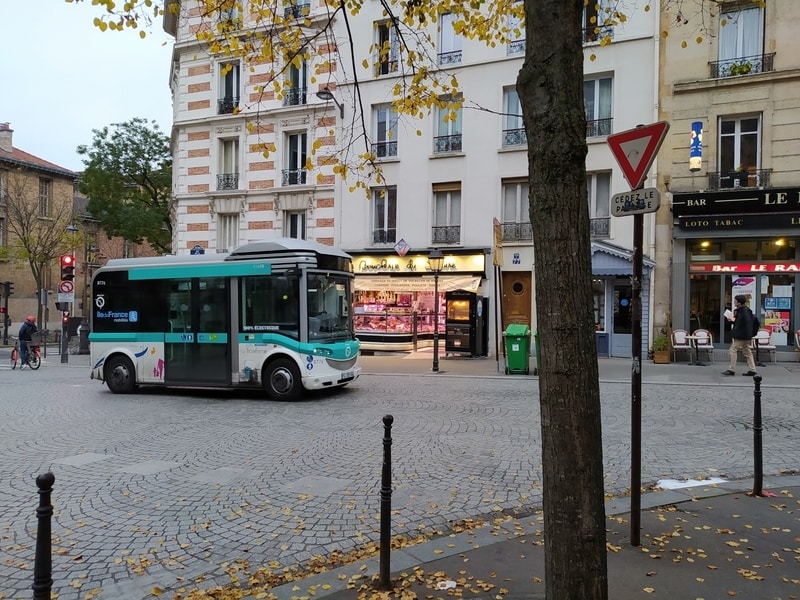 Isn't it cute? For me, the word "minibus" normally conjures images of a van fitted with seats, but this one really is like a miniature bus, with a vertical front and a low floor. This particular model is a Bluebus 6 m: the 6-metre version of Breton manufacturer Bolloré's fully electric buses. More conventional 12-metre Bluebuses circulate elsewhere in Paris; the Breton city of Rennes even has an articulated 18-metre model.
A few weeks ago, having seen these tiny buses in various places around town, I resolved to find out more. It turns out there are five different bus lines around Paris under the banner La Traverse, each using similar vehicles. "Traverse" has several meanings, but one of them is "side street", and indeed, these miniature vehicles run primarily on the types of road shunned by larger models.
In 2004, the City of Paris teamed up with regional transport authority the STIF1 to create La Traverse de Charonne, following a circular route in the 20th arrondissement serving several metro stations and surrounding areas. The aim was to provide a hyper-local neighbourhood service, filling in the gaps left by other modes of transport. This first service initially used Mercedes-Benz Sprinters: minibuses of the old-fashioned van conversion kind.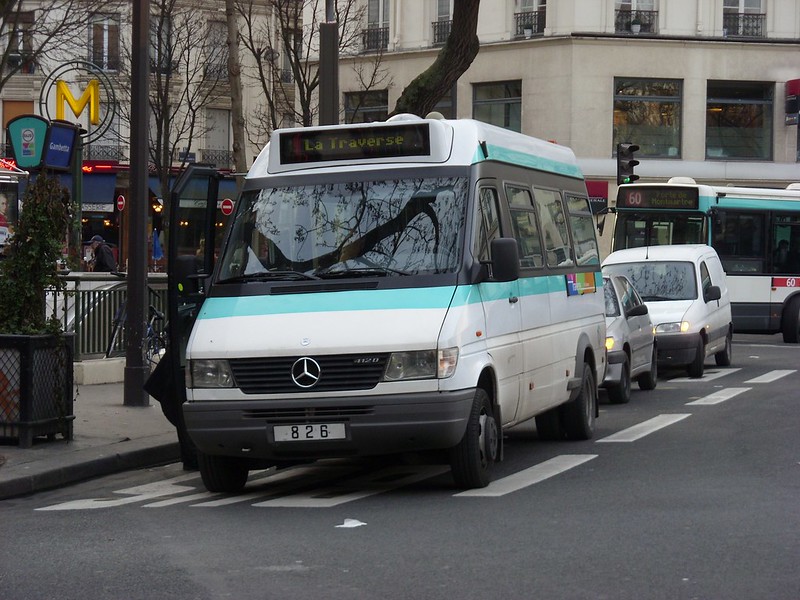 This first Traverse was considered a success, and soon new lines were springing up in other outer arrondissements. These used low-floor buses, starting with the Gruau Microbus, and later the electric Gépébus Oreos 2X. By 2013, there were four Traverse lines, all operated by the RATP with joint funding from the City of Paris and the STIF. That year, a fifth line opened; this time, operation was contracted to private company BE Green. For ticketing purposes, each line is considered the same as any bus in Paris.
Today, all the RATP lines use the Bluebus 6 m – the electric successor to the Microbus – while BE Green's line uses the Jest, constructed by Turkish manufacturer Karsan.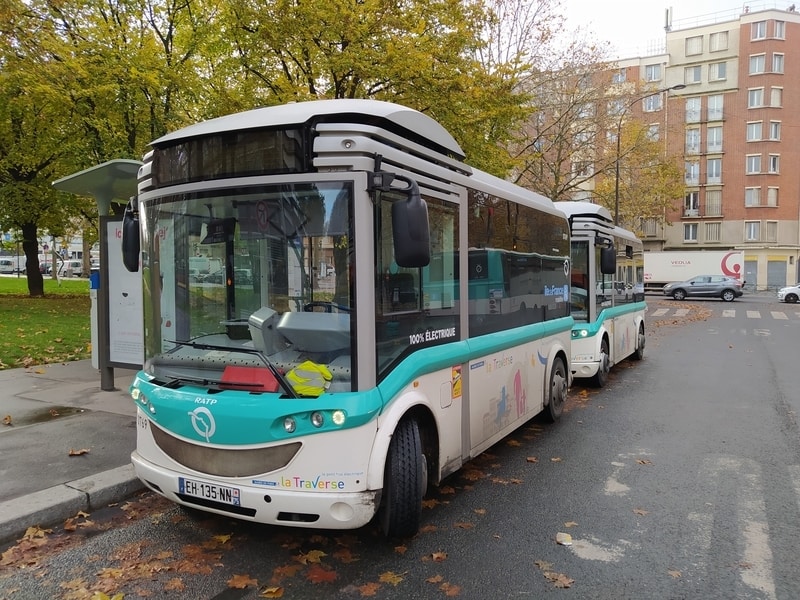 Raison d'être
You're never more than a few hundred metres from a metro station in Paris; there's typically a conventional bus stop even closer at hand. The RATP journey planner rarely recommends the Traverses, as it's usually quicker to walk to the metro. This is especially true once you factor in the headways, which are longer than on the metro and many bus lines. The Traverses also have much more limited operating hours than either the metro or most buses.
What these minibuses offer is a solution for people unable or unwilling to walk the short distances many of us take in our stride. This can variously include older folk, people with disabilities, people with small children, or those carrying heavy shopping. In a less dense town, small buses like this might be used to solve the "last mile" problem: how to get public transport users from a bigger transport hub to their final destination. In Paris, this is more like the "last 250 metres" problem. It also connects less mobile residents with their neighbourhood's shops: it's important everyone can get their daily baguette.
Notes from the field
Back in November, I tested each of the five routes, taking photos and notes as I went. You can see and read these unfiltered pictures and thoughts below, in the order in which I experienced them. To the extent that the recent Covid surge has affected travel patterns, these changes won't be reflected in my observations.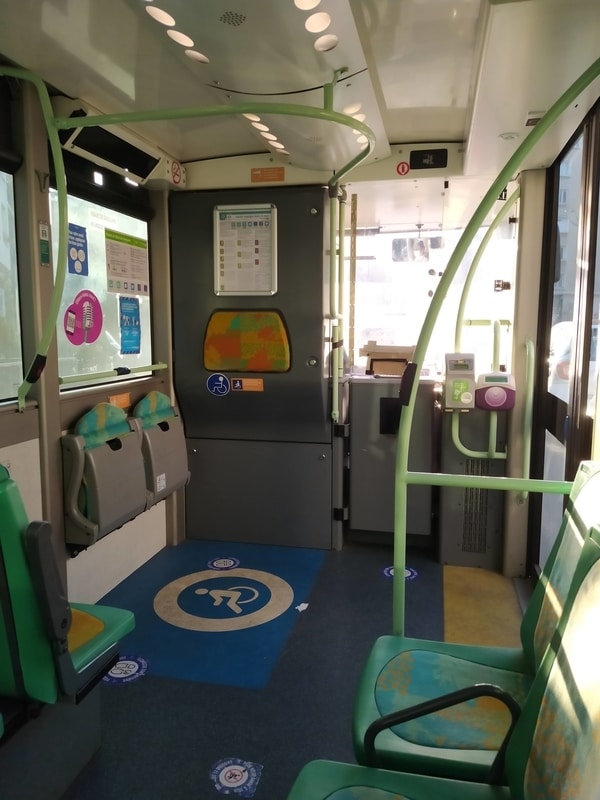 Batignolles-Bichat
La Traverse Batignolles-Bichat opened in 2011 and serves parts of the 17th and 18th arrondissements. I tested it at around 9 on a weekday morning. I boarded at Porte de Saint-Ouen, where it connects with metro line 13 and tramway 3b, alighting at Mairie du 17ème, roughly half way around the circular line. It was a comfortable ride. The Bluebus, which seats 10 and has ample standing room, was empty when I boarded. Two individual passengers – an older man and a younger woman – got on during my ride, but each only rode for two or three stops. Each greeted the driver as they boarded, and said goodbye as they left; on the city's bigger buses, not everyone says hello, and passengers alight from the rear doors, away from the driver.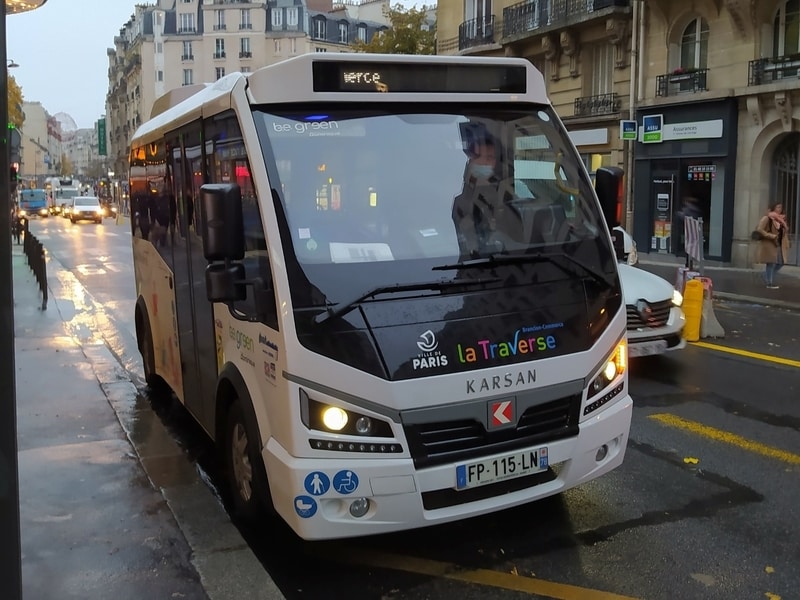 Brancion-Commerce
La Traverse Brancion-Commerce, opened in 2013 in the 15th arrondissement, is the only privately-operated Traverse2. The Karsan Jest I had the pleasure of riding (at around 8:30 on a weekday morning) was even more comfortable than the Bluebus. Although I only rode it a few stops (from Félix Faure, where it connects with metro line 8, to Convention-Vaugirard, for the 12), I had it to myself. One passenger was getting off as I boarded.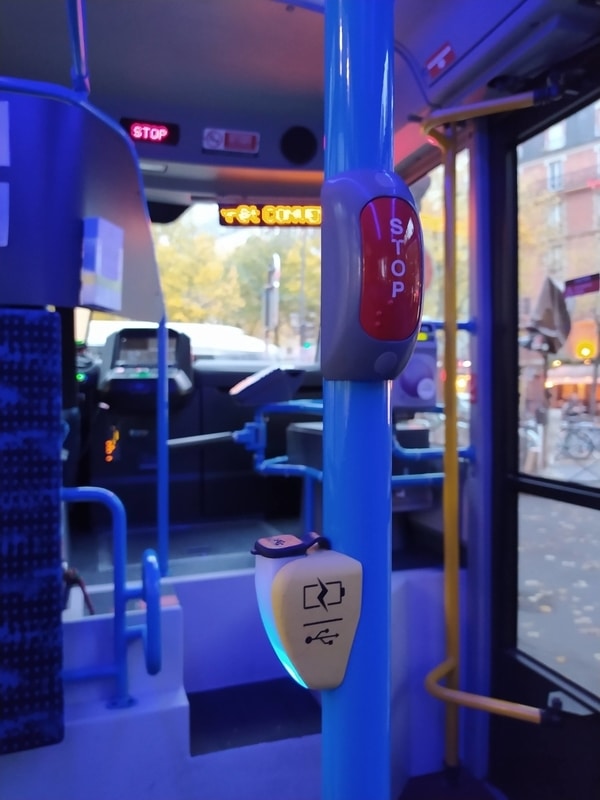 Ney-Flandre
La Traverse Ney-Flandre serves parts of the 18th and 19th arrondissements. It was the second to open, in 2007. Officially it runs every 15-20 minutes, but I was unlucky. I travelled to the Porte de la Chapelle on my lunch break, and after some difficulty finding the stop – it wasn't well signposted, but this might be because of major building work at the area – I ended up at the next stop along. Here, the passenger information screen informed me that the next bus wouldn't arrive for over half an hour. Around the corner was a stop for the other direction, but this too was advertising a very long wait. I'm lucky to get lunch breaks long enough for transit joyrides, but this was too much even for me. I headed back to the office and vowed to try again another day.
The next time – another lunchtime – I found the elusive stop, but there was no live information display because of the building work. The RATP mobile app accurately informed me of an approaching bus, but neglected to tell me it wasn't taking any passengers, and I watched it speed past.
Fortunately, I only had to wait another five minutes for a bus which did stop. I joined two other passengers on board. One alighted shortly afterwards, while the other stayed on until the terminus, the Porte d'Aubervilliers.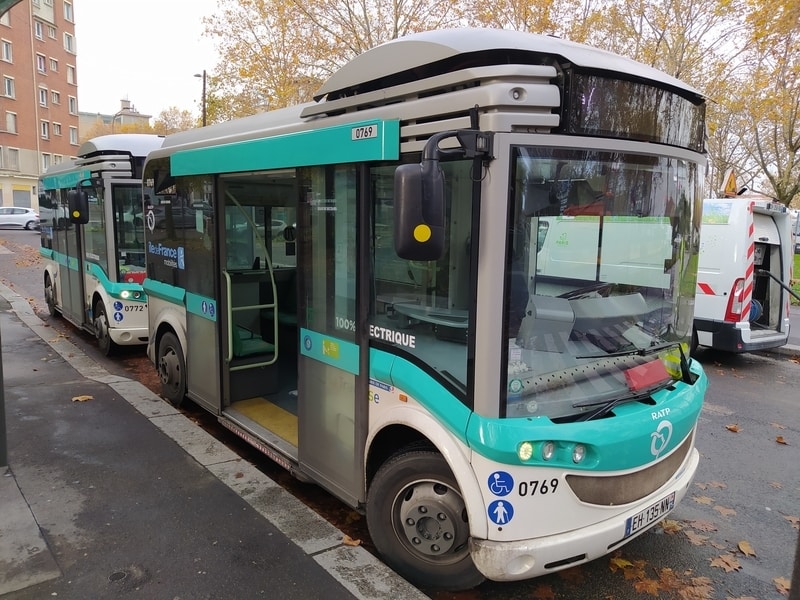 At the Porte d'Aubervilliers, the driver was rather amused I was taking photos. It's a circular route, and I planned to go further around the circle, so I asked how long the wait would be. He told me I could stay aboard and another driver would arrive to continue the journey 12 minutes later. When I told him I was riding to Place de Clichy, he told me the number of another bus which would take me there faster. "But I guess you want to stay and enjoy the little bus?"
I did stay – making the most of the wait to take some more snaps – and on the next leg the Bluebus began to fill up. 7 people of various ages got on after me, one with a pushchair and another with a wheely shopping bag. Like all of my observations, this is purely anecdotal, but I thought it noteworthy that almost all the other passengers were women. This is a demographic more likely to be making complex trips during the working day, often handling heavy shopping and with small children in tow. The Traverses make some of these trips a little easier.
Bièvre-Montsouris
La Traverse Bièvre-Montsouris runs east-west in southern Paris, connecting with metro line 7 in the 13th arrondissement and line 4 in the 14th. I rode it shortly before 9 one morning, from Parc Montsouris to Alésia. Once again, I was joined by 7 other passengers, this time mostly elderly folk.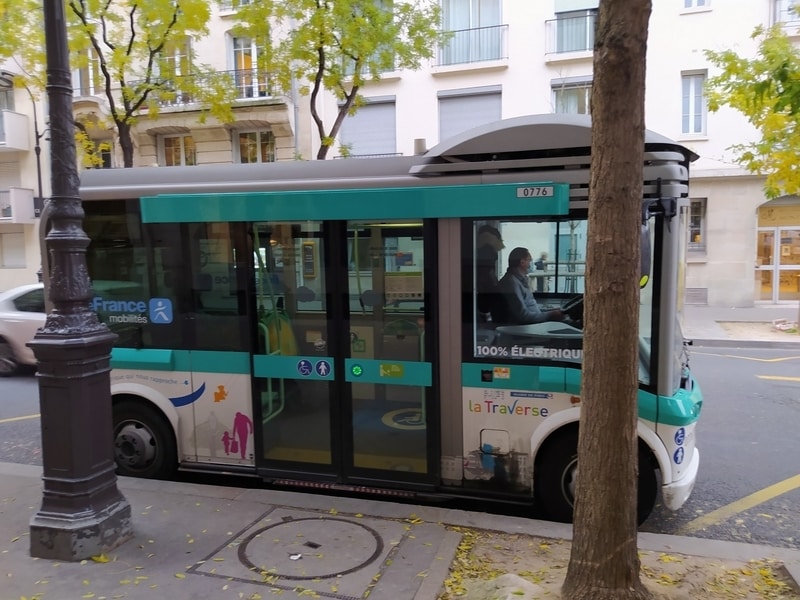 Charonne
The last Traverse I took was the first one to be created, inaugurated in 2004. I rode from the northern terminus at Gambetta (where it connects with metro line 3) to Porte de Montreuil (for line 9). It also connects with line 1 at Porte de Vincennes, as well as tramways 3b and 3a.
I boarded a few minutes before departure, but by the time we headed off, there were six of us. Three more joined along the way, one of them carrying a baby. Unlike my other Traverse journeys, a significant chunk of this one was on a main road (the rue de Bagnolet) without a bus lane. Consequently – this was the morning rush hour – we were held up in traffic for a while. Once we got back onto the side streets, we could speed up again.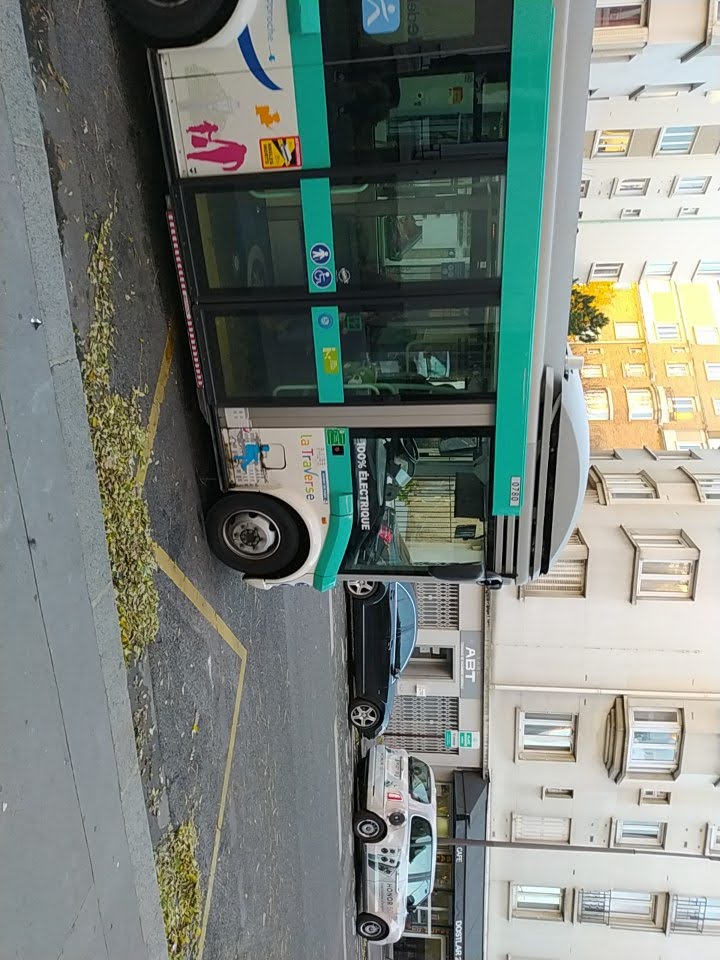 Elsewhere in Paris
To my knowledge, these are the only public minibuses entirely within the city limits of Paris. But if you've read this far, there are a few other bus routes which might interest you.
Montmartrobus
Winding through the narrow, sinuous streets of Montmartre, RATP bus line 40 uses "midibuses", midway between minibuses and conventional buses at 9 metres long. These provide higher capacity than a minibus, but are still capable of navigating this unusual route.
Prior to the reorganisation of the bus network in 2019, line 40 had operated since 1983 as the "Montmartrobus". It mostly used midibuses, but has also seen Oreos 2X minibuses. It's a great choice for tourists exploring Montmartre; the transit-loving visitor can combine it with a ride on the funicular for maximal enjoyment.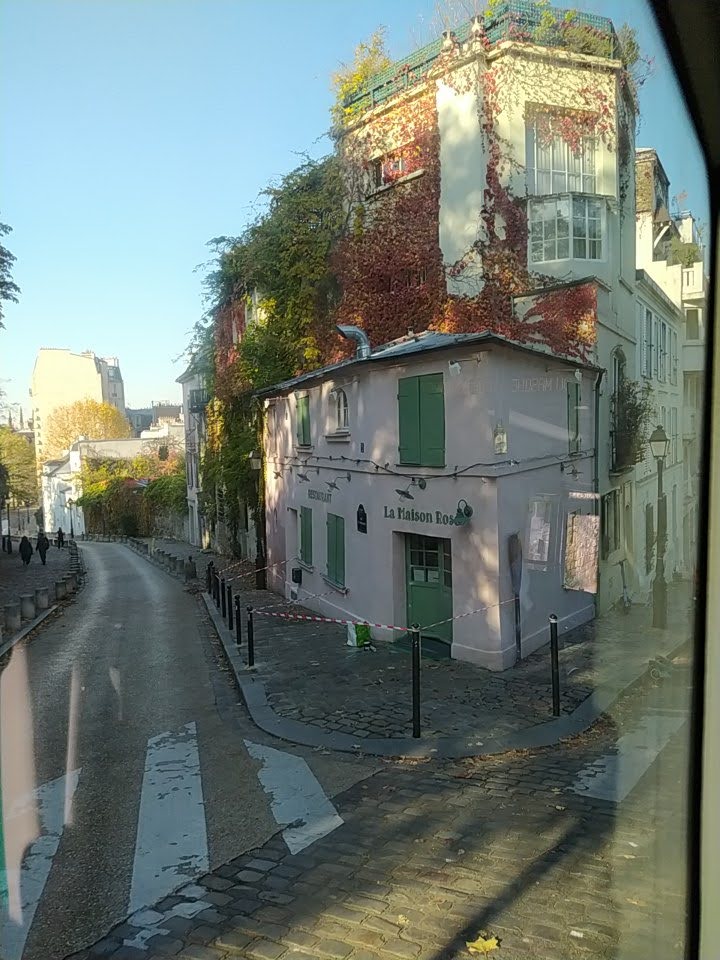 Le P'tit Bus du Pré
The tiny town of Le Pré-Saint-Gervais is sandwiched between Paris's 19th arrondissement and the northeastern suburbs of Pantin and Les Lilas. There is not a single metro station or tram stop within the limits of the commune, but it is served by several in neighbouring towns. The P'tit Bus du Pré links the centre of Le Pré with two of these metro stations, in Pantin and Les Lilas. It also crosses under the boulevard périphérique into Paris to connect with tramway 3b. Operated by the RATP, it's offered free of charge, with funding from intercommunal body Est Ensemble. It runs every day from 9:15 until 18:22, and uses the Bluebus 6 m.
As far as I can tell – please get in touch if you know of another – this fills out the list of public minibuses circulating on the streets of Paris itself. But elsewhere in the region, there are many more like it.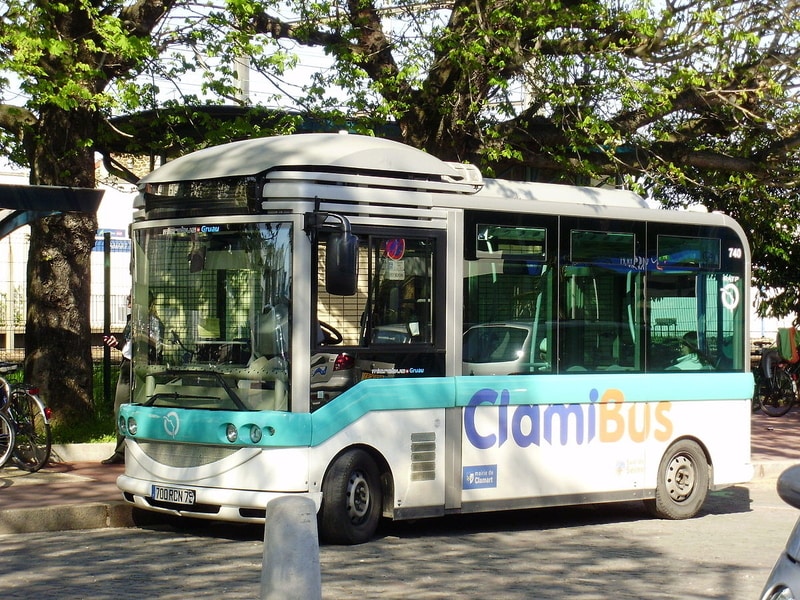 In the suburbs
Outside Paris, many towns have a single circular minibus line created to offer the same kind of hyper-local service provided by the Traverses and the P'tit Bus. These are usually marketed under a name rather than a number, most often something reflecting the commune, such as Clamibus for Clamart or L'Audonienne for Saint-Ouen (whose inhabitants are called Audoniens and Audoniennes). Some are free of charge, while others are ticketed the same way as other buses in Île-de-France.
The operating hours and service frequencies of these minibuses vary considerably from town to town: some operate daily, others stay in the depot at weekends or on Sundays; some run into the evening, others cover the rush hour and then stop, while still others stop running around 6.
Closing thoughts
While minibuses will never be as common here as in Hong Kong or East Africa, it's clear that they can serve a useful function in specific local settings, filling in the gaps between other transport modes. The arrival of low-floor minibuses has given meaning to such services: if a route exists to provide mobility to people unable to walk 500 metres to the metro, it makes sense to make it as easy as possible to get on and off.
I understand that commuters aren't the primary targets of a line like this. And I understand that local authorities have to consider their costs when scheduling such routes. But when a line, like the P'tit Bus, starts operating just a little too late for the morning commute and terminates just a little too early for the evening, it seems like a missed opportunity. Still, anything that makes it easier for people to get around, at little to no charge, gets my blessing. And as a fan of unusual transport, I greatly enjoyed trying out the Traverse lines. Thank you for coming along for the ride.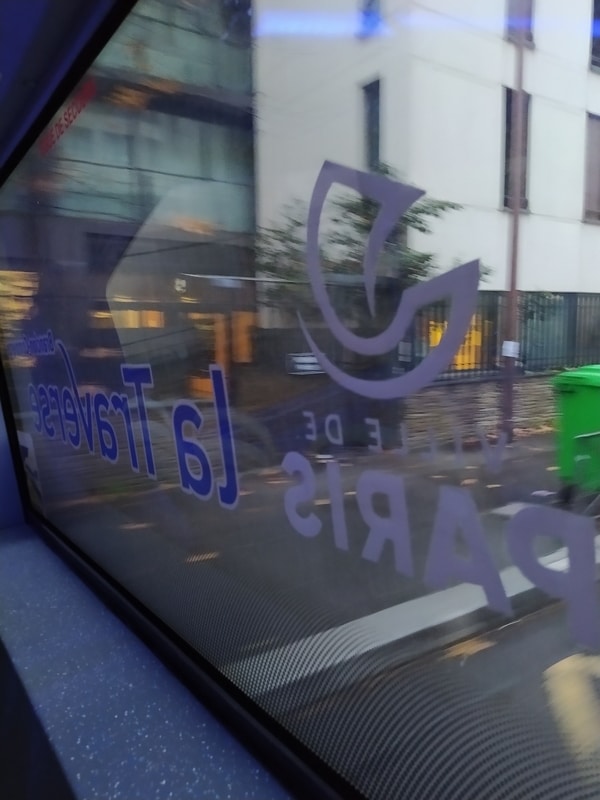 If you're looking for more photos of the Traverses, look no further than transport photographer Thibault Godin's incredible website. It features dozens of shots of these minibuses, alongside hundreds – probably thousands – of photos of other buses around the Paris region.