We're already one sixth of the way through 2023, but I still wanted to finish this series of articles looking at transport developments in the Paris region in 2022, as well as looking ahead to 2023. In the first three instalments, we've looked at long-distance trains, regional rail and the metro; today, we turn our sights to the region's tramways.
Tramway
T13 Express
The tramway network of Île-de-France continued its rapid growth in 2022. After the success of line 9 in 2021, it was the turn of line 13 Express, which opened on 6 July: the 30th anniversary of the first modern tramway in Île-de-France.
Line T13 is the region's fourth tramway to take over an older railway line, and the third to use dual-mode tram-train vehicles capable of both street running and conventional railway operation. But this one is unique in having a section running on the right (like French road traffic, including cars) and a section on the left (like French trains1). If you want to know more about the variety and inconsistencies of the region's tram-trains, stay tuned for an upcoming instalment of this blog's history of tramways in Île-de-France.
Line T13 runs partly on the Grande Ceinture, a railway running in a wide circle around Paris and its suburbs. It operates between Saint-Germain-en-Laye and Saint-Cyr-l'École, in the western reaches of Île-de-France. It connects to RER lines A and C, and Transilien lines L, N and U.
T12 Express
Line 12, due to open this year in the southern suburbs, has much in common with line 13. It will run south from Massy-Palaiseau to Épinay-sur-Orge along a stretch of the Grande Ceinture currently covered by a branch of RER line C. From Épinay, it will run as a tram to the town of Évry-Courcouronnes.
The RER C is notoriously convoluted, with three different branches in the north and west, and four in the south, one of which loops around to join one of the western branches in Versailles. Once the T12 enters service, this will be simplified slightly. Eventually, the branch will be removed completely, and the bizarre Versailles-Versailles service will cease operation. But that will have to wait for the T12's western extension, whose opening date is unclear.
Originally scheduled for 2020, the new tram-train line is currently due at the end of this year.
T10
The other new tramway entering service in 2023 is more conventional in nature. Running from Jardin Parisien in the leafy southwestern suburb of Clamart to Croix-de-Berny in the leafy southern suburb of Antony, it will offer connections with both RER line B and tramway T6. Unfortunately, the tram connection won't be any use for sharing rolling stock: line 6 uses rubber-tyred Translohr vehicles. For more on that, stay tuned for a future instalment of Fabric of Paris's history of tramways in Île-de-France (consider subscribing to email updates so you don't miss out).
Line 10 will look a lot like line 9, which opened in 2021. It uses the same trams (albeit in a shorter model) in the same Île-de-France Mobilités livery. As far as I can tell, the stations will look similar, too. But the operator is different. In common with most of the rest of the region's trams, the contract for line 10 was awarded to the RATP, while that of line 9 went to Keolis.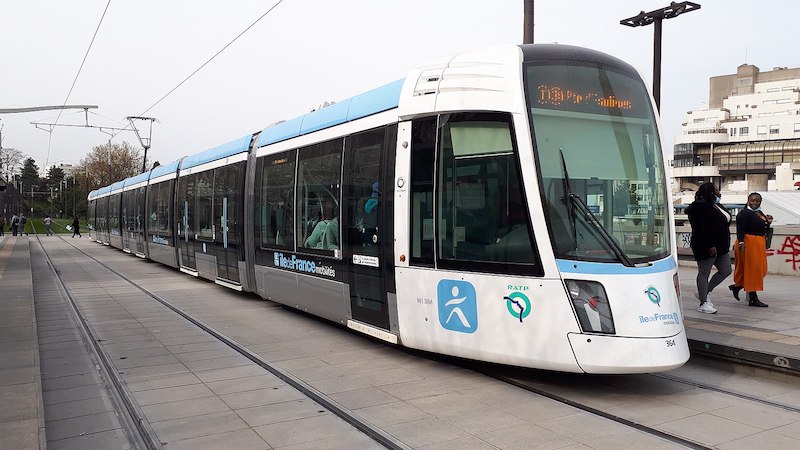 T3b extension
We'll have seen four new tramways in three years. Beyond that, no new lines are planned for the foreseeable future. But that's not to say there are no more tram developments in progress. Should all go to plan, the extension of line 3b to Porte Dauphine will be completed this year.
Up next
We've covered a lot of ground over these four issues. But we haven't discussed any movements in the active travel space, including new cycle lanes and a potential roadblock for electric scooter sharing companies. Check in next time for the rest of the story.
Trains on the Paris metro run on the right, specifically because Parisians at the beginning of the 20th century wanted to prevent it being integrated with the main railway network. Decades later, the RER came along and ran through the city centre, on the left. ↩