As the municipal government of Paris pursues its goal of calming the streets and fighting pollution, several policies are converging to make driving in the capital less convenient, slower, and more expensive. Not without cause: the various measures aim to make the city a safer, healthier and more pleasant place to be.
Fabric of Paris has already covered the creation of "coronapiste" cycle lanes around the city, 52 km of which are now set to become permanent, and the creation of new school streets where traffic is either heavily curbed and calmed, or altogether banished. But I want to draw attention to three other big changes due in the coming days, months and years: changes which will reduce traffic speed, reduce traffic volume, and radically reform parking.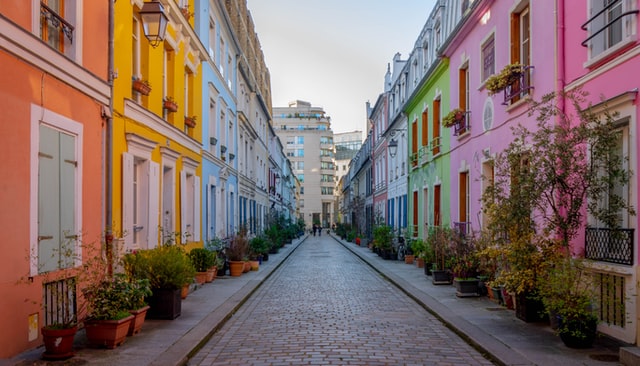 1. Reduce speed
From 30 August 2021, a new speed limit of 30 km/h will apply on all the capital's streets, save a few major axes (most notably the boulevard périphérique, the boulevards des Maréchaux and the Champs-Élysées).
The new policy follows a consultation in which more than half of Paris-based respondents were in favour. Those non-Parisians who responded weren't so positive, which makes this a bold decision for the mayor. Anne Hidalgo hopes to run for the French presidency next year, but she's struggling to persuade those outside the capital she can defend their interests.
Personally, I'm completely in favour of reducing speeds in the city centre. The safety of all those who walk here is more important than the slightly increased journey times of those driving through. And vehicle noise is a major problem in the city, particularly when some motorcyclist or sports car enthusiast decides that a residential street is the best place to test their vehicle's acceleration. The reduction should also encourage GPS systems to send people on alternative routes, rather than through the city centre.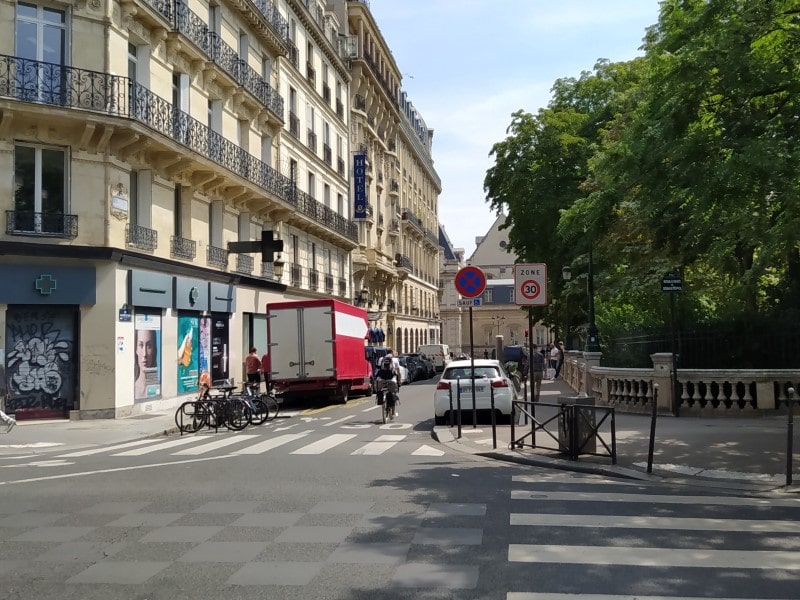 On the other hand, merely reducing the speed limit is unlikely to achieve much unless it is properly enforced. And better than enforcement is designing the streets for low speed. So I'll be watching keenly to see what happens to the city's wider boulevards.
Now, to address some common concerns:
What about buses?
Despite an exemplary network of bus lanes, the commercial speed of buses in the capital is low and has fallen in recent years.
Could this make matters even worse?
The folks at local transport blog transportparis think so. In a highly critical editorial, they suggest that it might have been wiser to maintain the higher 50 km/h limit along major bus routes. But given how frequently buses stop – whether to pick up passengers or at junctions – it's rare for them to reach 50 km/h for any great distance.
Overall, the new limit probably will reduce average speeds slightly. But it's worth noting that average bus speed and the speed experienced by the average passenger are not the same. When the roads are quiet and the buses empty, the handful of passengers aboard can enjoy greater speeds. But the more typical user rides on a crowded bus at rush hour, when buses surely already make it above 30 km/h only rarely. So I think we can expect the impact on the average passenger to be small.
What about emergency vehicles?
Well, these aren't beholden to speed limits. But physical measures to slow traffic will impact them. Care should be taken to find ways to limit this, for example using well-designed speed cushions.
On the other hand, the main thing slowing emergency vehicles today is surely traffic, which is unlikely to be dramatically affected. The key measure that can benefit them at peak times is the ability to bypass queues, namely with bus lanes and wide cycle lanes.
What about goods transport?
Vans will still be allowed to circulate, just at a reduced speed. But if this encourages more delivery companies to use bikes and cargo bikes, so much the better. For many urban deliveries, these are perfectly suitable, and much more efficient than lorries.
2. Reduce volume
Paris is consulting on a measure to create a "limited traffic zone" in the city centre. Under the plan, the first four arrondissements, along with parts of the fifth, sixth and seventh, would close to through car traffic. The specifics have yet to be fully hashed out, but the principle is that those driving within these limits will need to be travelling to or from a destination within the area. The usual exceptions will of course apply – buses, taxis, and those transporting disabled people will be allowed through.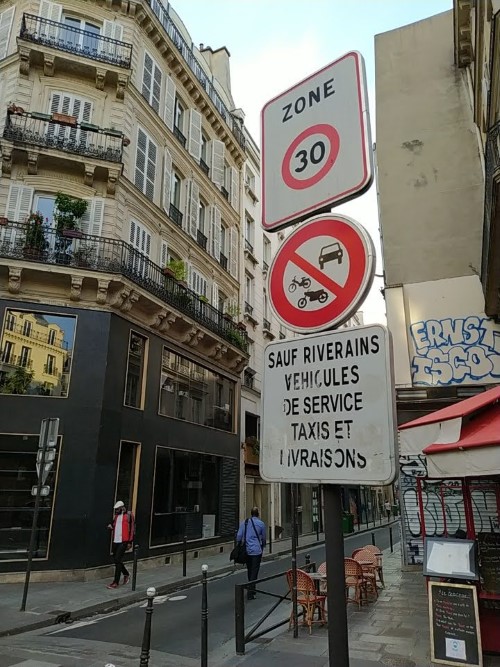 As a resident of the zone, I can only welcome this move, for the same reasons I support the reduced speed limit. But as with the speed limit, my biggest concern is enforcement. Various permanent or temporary car-free zones already exist around the city, but it's not uncommon to see vehicles in the area that probably shouldn't be there. It's also going to be difficult to target the enforcement: we don't want people with a legitimate reason for driving in the area to face hassle.
According to regional newspaper Le Parisien, Hidalgo is considering pushing the measure back to 2023, conscious of her image ahead of next year's presidentials. A prudent display of caution, or cowardice in the service of political ambition? I fear it risks giving ammunition to her opponents, who will be able to say that she doesn't believe in her own policies.
3. Reform parking
Two wheels
Currently, motorcycles can be parked for free on the streets of Paris. Certainly, they take up a lot less space than cars, and it would be wrong to charge as much for a scooter as for an SUV. But in dedicating a part of the city's limited public space to the storage of these vehicles and not even charging a fee for the privilege, the municipal government is effectively subsidising this choice of mobility. Given that they contribute to both air and noise pollution (the latter on a major scale), it seems fair to introduce a charge. That's exactly what's happening from 1 January 2022: it will cost half as much to park a scooter or motorbike as it costs to park a car. In the first 11 arrondissements, this will amount to an hourly tariff of €3.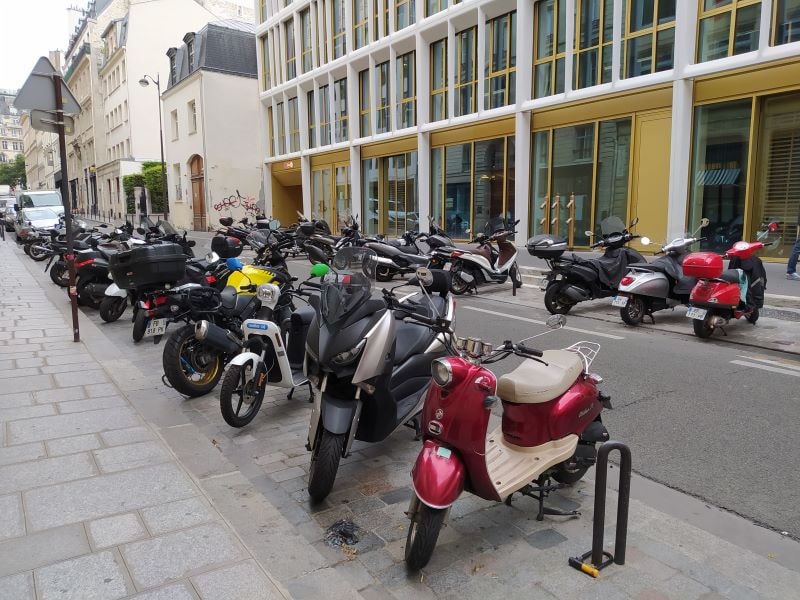 Four wheels
This isn't the only parking reform. As promised in last year's municipal elections, the city government is progressively removing 60000 traditional parking spaces, thereby cutting their number in half. Some have already been transformed into temporary restaurant terraces, some of which will become permanent. Others have made way for new cycle lanes, and still others for new spots to park free-floating bikes and scooters. Thousands of new disabled spots, motorcycle spaces, loading bays and taxi stands are set to be created, and 2400 new charging points for electric vehicles are due to be rolled out by the end of 2021.
In addition to the new charges for two-wheeled vehicles, the price to park a car1 is rising significantly: from €4 to €6 in the central arrondissements. The fine for not paying has also gone up sharply, from €50 to €75.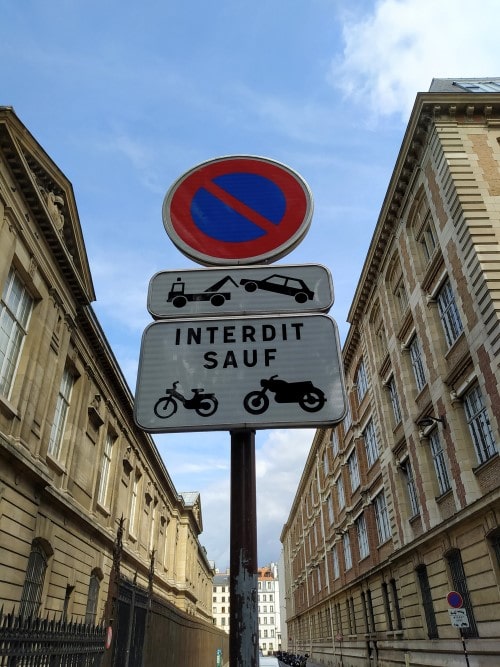 For disabled badge holders and low-emission vehicles (electric, plug-in hybrid and those that run on natural gas), parking on Paris's streets remains completely free. Of course I support this in the case of disabled people, but I'm not convinced it's a good thing for the latter group. It's one thing to encourage people to move away from high-emission vehicles, but here I fear it's an incentive towards driving and away from more efficient, safer public transport. As the number of electric cars increases, I suspect this will become an unsustainable exception to the parking charges. Perhaps a discount, rather than a complete waiver, would work better.
Indeed, the introduction of fees for motorcycles demonstrates the possibility of charging different vehicle types differently. Should it cost the same to park a Smart car as a Hummer? Charging more for SUVs would be easy to justify – they take up more space – and would perhaps encourage people towards less dangerous smaller models. Failing that, it would at least bring more money into the city treasury, compensating for the reduction in the number of spaces, by charging those who can afford to pay.
The opposition
I've touched on some of the key opposition talking points. But next time I'll go into some more detail about the movement against change, loosely organised under the Twitter hashtag #saccageparis. Meaning something like "trashing Paris", this hashtag is used to accompany claims that the city is becoming dirtier and uglier. Though it's sometimes used to signal genuine problems and raise good-faith concerns, it seems the real issue of many of the movement's loudest voices is with the current administration's anti-car policies.
To continue following the story, sign up for email updates below.
The fees in question apply Monday–Saturday (except bank holidays) between 9 am and 8 pm. ↩