Over the last few weeks, Fabric of Paris has been looking back at 2022 and forward to 2023, to see what's changed and what's changing in the transport landscape of Île-de-France. So far, we've spent all our time on rails. But what about the streets? There's a lot of change happening there too. So even though it's already March, let's take the time to take stock of some of these changes.
Motorcycles
Parking
On 1 September 2022 – 8 months later than initially planned – fees were introduced for parking a motorcycle in the street. These met with inevitable protest from bikers; but at €3 per hour in the city centre – half what it costs to park a car – they seem reasonable. As with cars, electric vehicles are exempt. While I have previously commented that it's short-sighted to charge nothing to store large electric cars in the street, it makes more sense to me for two-wheeled vehicles. They usually take up a lot less than half the space of a car, and they don't create the same problems of air and noise pollution that their petrol-powered cousins are known for.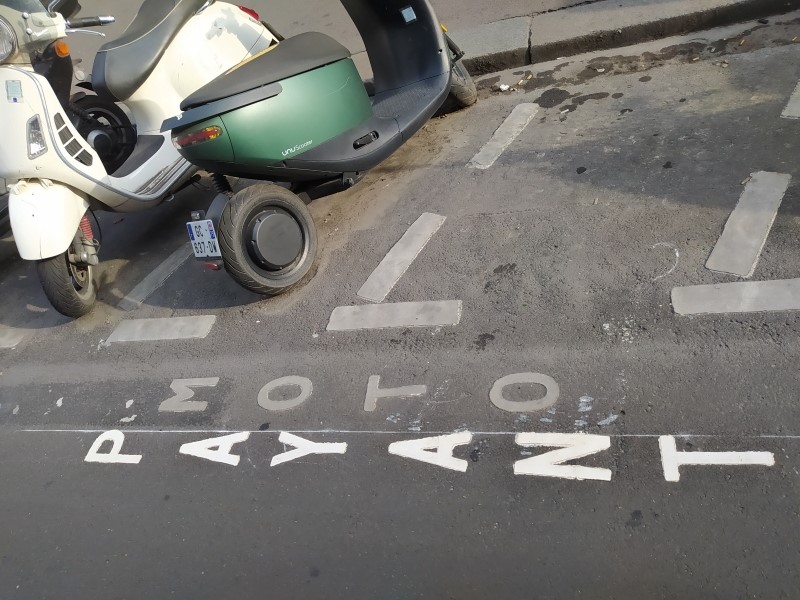 Vehicle safety checks
After years of wrangling, 2023 might just be the year that regular safety inspections become the norm for motorcycles. While the tests have existed for cars since 1992, it wasn't until 2007 that the idea of introducing them for two-wheeled vehicles was brought to the table. In 2014, a European Union directive required member states to introduce a test for vehicles with a capacity of 125 cc or higher, starting no later than 1 January 2022. In August 2021, France decreed that all vehicles 50 cc and above would be subject to the check, starting in 2023.
In the summer of 2022, the government U-turned, suspending the measure completely: for Macron, it wasn't "the moment to annoy the French people". This is a curious case of cowardice from a president who six months earlier had said he "really want[ed] to piss off non-vaccinated people"; who has repeatedly been willing to go up against unions; and who is not above meeting protests with police violence. Note also the questionable conflation of "French motorcycle owners" with "the French people".
The measure has been the subject of noisy protests in Paris. But to be honest, I'm baffled as to why it's so controversial. Personally, if I were riding a machine I'd spent thousands on, and spent hundreds a year to run, I wouldn't mind paying €30 every couple of years to minimise its chances of killing me. As a citizen of Paris, I'm in favour of the checks, because motorcycles pose a real noise nuisance. According to the city council, when a motorbike has been tampered with, it can wake 10000 Parisians when it crosses the city.
On 31 October, the Council of State ruled the decree suspending the measure illegal, on the grounds the government hadn't consulted the public. The government launched a consultation in November; campaigners hope that by this summer, the contrôle technique will be in place for motorcycles.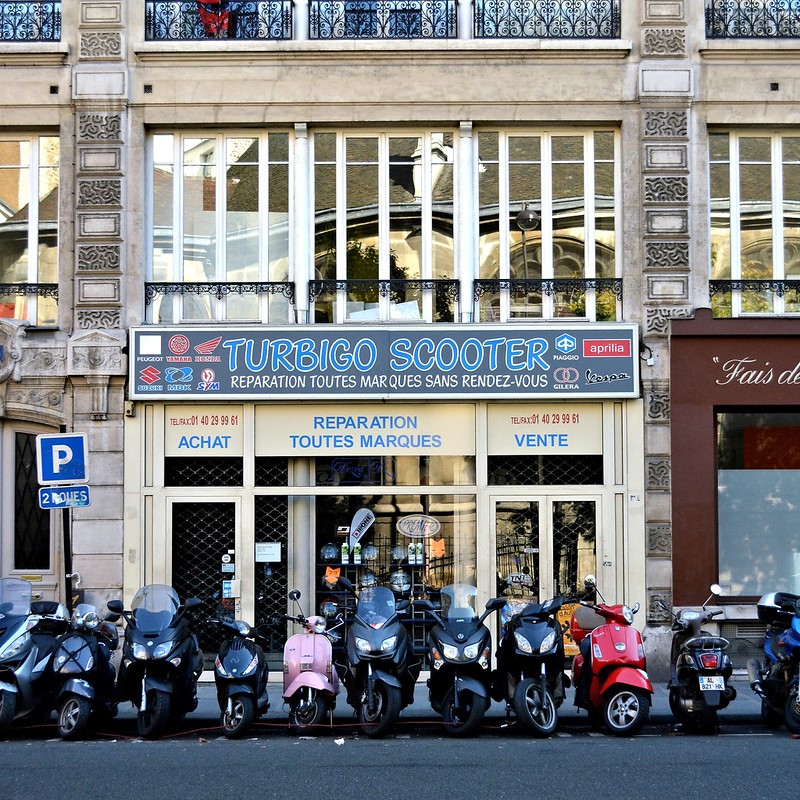 Electric scooters put to referendum
Electric scooters: green transport par excellence, or a dangerous nuisance? When it comes to the free-floating trottinettes available for short-term hire, the municipal government have come down on the latter side. But mayor Hidalgo wants Parisians to have their say. On 2 April, she will put a simple referendum to the people of Paris: should we keep them, or not?
It would be generous to say that the introduction of these services in 2018 was mismanaged: it wasn't managed at all. Over a period of just 12 months, 12 competing companies entered the fray. Scooters were strewn willy-nilly across the city's sidewalks. Careless tourists careened along pedestrian areas. Complaints piled up at the Hôtel de Ville.
In 2019, the system was brought under control. A licensing system reduced the number of operators to three. Dedicated parking spaces were introduced, with fines for companies if their scooters are left elsewhere. If two people use the same vehicle, they are eligible for a fine.
Since the new measures were introduced, scooters have been much less of a nuisance. They rarely block the pavements, and riders mostly use the roadway or one of Paris's many new cycle lanes. But according to the mairie, this isn't enough.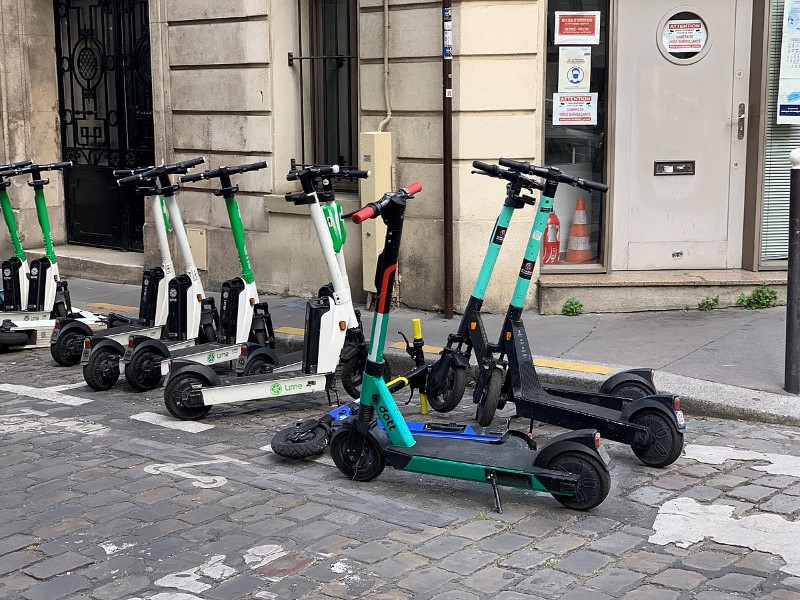 A month out, I still don't know how I'll vote. My internal dialogue goes something like this:
E-scooters are a relatively green mode of transport. They don't cause local pollution and they aren't noisy. Shouldn't we encourage that?
That depends – we need to look at how else people would be travelling, if they weren't using scooters.
According to studies in many

cities

, more than half of e-scooter rides can come from car use (driving, taxis and private hire vehicles). That's got to be a good thing!
In many cities, sure. But in Paris, where many useful journeys can be completed on foot or by public transport? In Paris that figure seems to be around 10%.
But isn't that still an improvement? That still means fewer people in big, polluting cars!
Well, we'd need to consider the environmental impact of the scooters. They're definitely better for local pollution, but aren't we just outsourcing issues to other places, with the need to mine for lithium? Especially since many scooters end up trashed or dumped in the Seine or the canal. Is that sustainable? Furthermore, if they also displace transit use, won't that take money away from an already cash-strapped public transport system?
Hold on a minute, aren't we missing something here? What about the fact e-scooters give people more choice? Perhaps people feel safer riding scooters than walking or using transit? Perhaps they allow trips that otherwise wouldn't have been made at all.
These are all good points. But what about the nuisances they cause? Yes, scooters rarely obstruct pavements nowadays. But how many near misses have you had crossing the street when a scooter fiend jumped a red light to cross your path?
Many cyclists do that too! So would you suggest banning bikes? Not to mention drivers, who rarely respect zebra crossings or yield to pedestrians when turning, and sometimes blow through traffic lights.
This discussion could last a while.
Cycle lanes
If you're reading this, there's a good chance you've already heard a lot about the massive increase in the coverage and quality of cycle lanes in Paris over the past few years. That progress hasn't stalled.
In 2022, work continued to make the Covid-era temporary lanes (coronapistes) permanent, including on the avenue de la République, the avenue de Saint-Ouen and, most notably, the rue de Rivoli.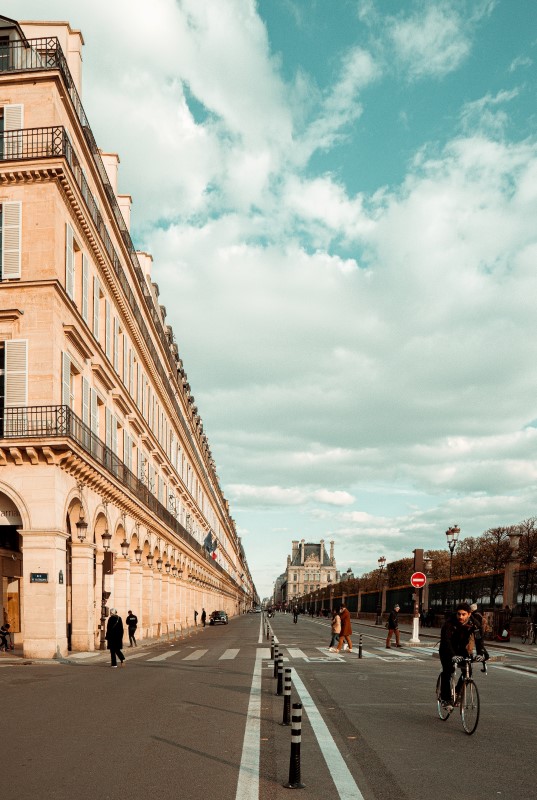 In 2023, more of the coronapistes, on such thoroughfares as the rue Lafayette and the avenue d'Ivry, will be made permanent. But there are also entirely new lanes being created. For example, early in the year, tracks opened along the rue du Renard and the rue Beaubourg, parallelling the wildly successful two-way path on the boulevard de Sébastopol.
All this movement is good for those who want to take up cycling. The resulting reduction in pollution is good for everyone with lungs and ears. But perhaps less intuitively, it's also good for the emergency services. In 2021 and 2022, the average wait time for the fire brigade in Paris fell below seven minutes for the first time in a decade, and it seems the deployment of wide two-way cycle lanes around the city is part of the reason. Indeed, when an emergency vehicle needs to get past traffic, it's much easier for cyclists to stand aside than for cars to get out of the way.
School streets
We've discussed Paris's rues aux écoles – streets adjacent to schools which are partially or fully closed to cars – before. In 2022, the focus seems to have shifted from creating new school streets to improving the existing stock. Where they began as just a road with barriers at either end, 22 of the city's 168 school streets have been given a full makeover, with new plant life and a lighter colour road surface. As Paris heats up over the coming years, this will be an important way to fight heat islands. Work is currently underway in 18 other locations around the city.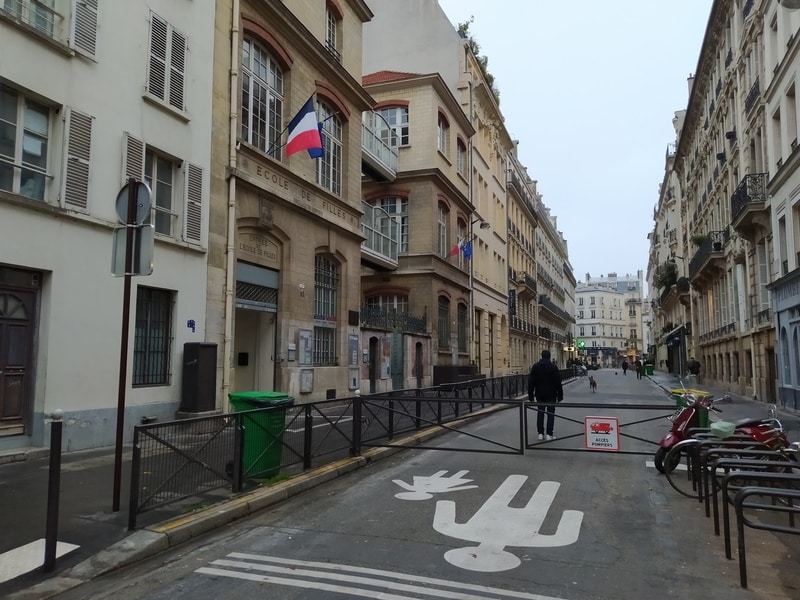 Special mention: the 15-minute city
Over the past few weeks, an incredibly strange thing has happened: a rather niche talking point in urbanist circles has become the subject of a widespread conspiracy theory. The concept of the 15-minute city, developed by the Sorbonne's Carlos Moreno, is about creating walkable cities where everyone has access to key services and leisure activities within a short distance of their home. Paris mayor Anne Hidalgo has famously taken the idea and run with it, as I've documented in these pages before. But in recent months, opposition has mounted in certain circles.
The opposition is based on a fundamental misunderstanding of the concept, but that hasn't stopped people getting worked up. Journalists Jonn Elledge (for whom this is the perfect story, combining his knowledge of both urbanism and conspiracy theories) and Carlton Reid (who colours his piece for Forbes with ancient Roman history) have both written eloquently about this news story. If audio is your thing, you can also listen to urban planner Brent Toderian's take on the subject.
Up next
It's taken a while to reach the end of this 5-part retrospective. So long, in fact, that much of it is already out of date. Next time, we'll take stock of the delays that mean some of what we hoped to see in 2023 won't actually materialise until 2024 and beyond. As ever, the best way to avoid missing the next instalment is by signing up to email updates, which you can do using the form below. Thank you!