Having grown up in a small town and since made my home in a major city, I often think about the advantages and disadvantages of city life for children. On the one hand, living in a global metropolis like Paris comes with boundless educational and cultural opportunities. On the other hand, children are among the most vulnerable to urban pollution, and a lack of access to green space in childhood can have harmful consequences that persist into adulthood.
Fortunately for the urban youth of today, municipal leaders across the world are paying attention to the problems of growing up in such an environment. And as it happens, what's good for our children is invariably good for everyone else: by more fully adapting the city to their needs, we can make it a better place for the rest of us.
Let's take a look at three specific measures the municipal government in Paris is taking to improve the lives of its youngest citizens.
1:
Rues aux écoles
Sometimes, when we think of air pollution, we think of industrial megalopolises in China and India. And indeed, people in those countries breathe some of the world's worst air. But the problem isn't limited to Asia or lower-income countries: the World Health Organization estimates that 91% of the global population live in places with air quality below guideline limits.
Many of the most dangerous pollutants, including particulates and nitrogen dioxide (NO2), are found in car exhaust fumes, which are of particular concern for children: not only are they more vulnerable because their lungs are still developing, but because they are shorter the air they breathe contains 30% more particulates, as demonstrated by a 2018 study in various UK cities.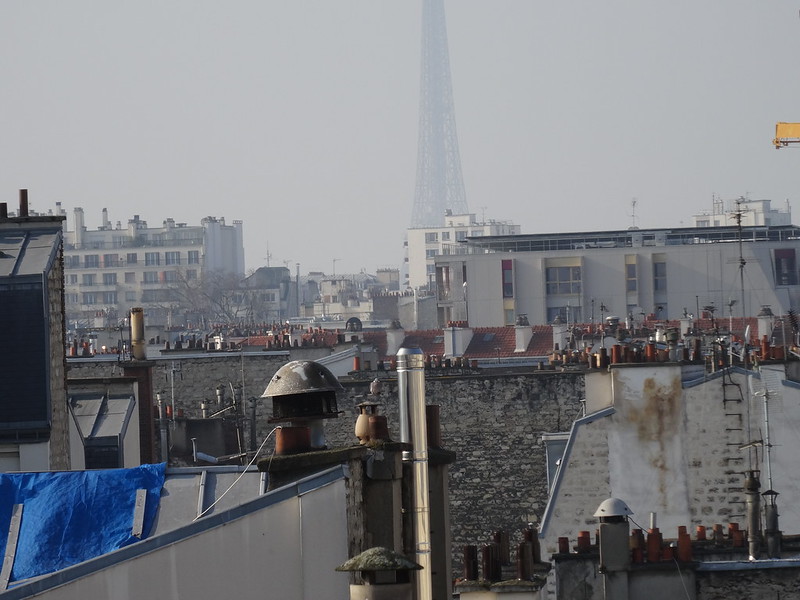 Another study, in 2019, linked NO2 pollution with 4 million new asthma cases worldwide every year, including 400 per 100 000 children in Paris: a third of all new cases in the city. And as we saw in the tragic case of Ella Kissi-Debrah, who lived and went to school on London's notorious South Circular road and ultimately died of an asthma attack, the consequences can be fatal. Public Health France estimates that PM2.5 pollution alone causes 48000 premature deaths every year.
There is some good news though. According to the UK study, simply walking along quiet roads instead of busy ones can reduce exposure to harmful petrol and diesel fumes by a factor of 2.5. Just providing a walking route for children that avoids major roads can save lives.
Cars also present a more immediate safety problem. In France in 2017, 37 children were killed in traffic collisions while walking, with more than 1000 hospitalised. Many of these incidents occur on the walk to and from school, and three quarters of these are within 500 m of the gates. While some of the ridiculously-proportioned SUVs now popular elsewhere1 will likely never dominate the narrow streets of Paris, cars are getting bigger, and therefore more dangerous to children in the street.
It's easy to see how a vicious circle can develop: the more people drive to school, the more dangerous the walk becomes, and the more likely parents are to choose to drive their children. But of course this is no solution: a child in a car is not safe from deadly road accidents. More children died as passengers than pedestrians in 2017, with 84 losing their lives in cars. At least passengers are safe from air pollution, right? Wrong. In fact, automobiles trap the toxic fumes from surrounding vehicles, leading to pollution levels inside the car an order of magnitude higher than outside.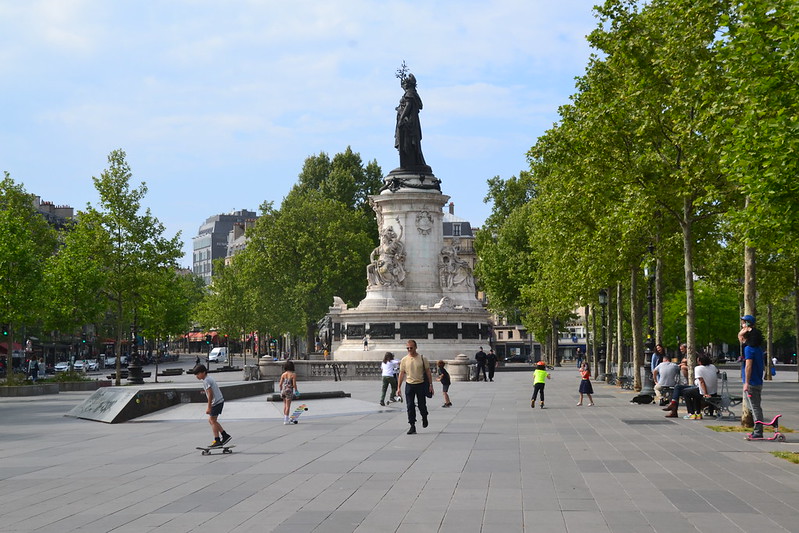 But change is in the air. A number of different but related initiatives have sprung up in recent decades. The Dutch woonerf concept for shared residential streets dates back to the 1970s, but has received attention more recently in the English-speaking world and elsewhere. The French rue aux enfants ("children's street") is much more recent, but draws on the tradition of Lyon's rues du mercredi ("Wednesday streets") in the 1980s and similar projects in the first decade of the 21st century, proposing temporary pedestrianisations to turn streets into playgrounds.
To address the school run more specifically, the "school streets" movement targets the roads in front of schools, closing them temporarily at the school's opening and closing times. According to the UK's School Streets Initiative, these date back to Italy in 1989; they arrived in Scotland in 2015 and have since proliferated across Britain. By making it less convenient to use a car and safer to use alternatives, the aim of school streets is to encourage people to ditch their cars for this twice-daily journey. The effects could be huge: according to a report by car insurance company Admiral, road collisions in the UK between the hours of 8 and 9 drop by as much as 43% in school holidays.
Paris's approach is a little different: rather than closing only at pickup and drop-off time – which for some children here includes lunchtimes – they are completely closing these stretches of road to motor vehicles2, at all times of day. Where this is not possible, the street is "calmed", with pedestrian priority and drivers expected to limit their speed to walking pace. There are now 122 such rues aux écoles, including 57 created for the new school year in 2020. Of these new streets, just over half are completely closed to cars.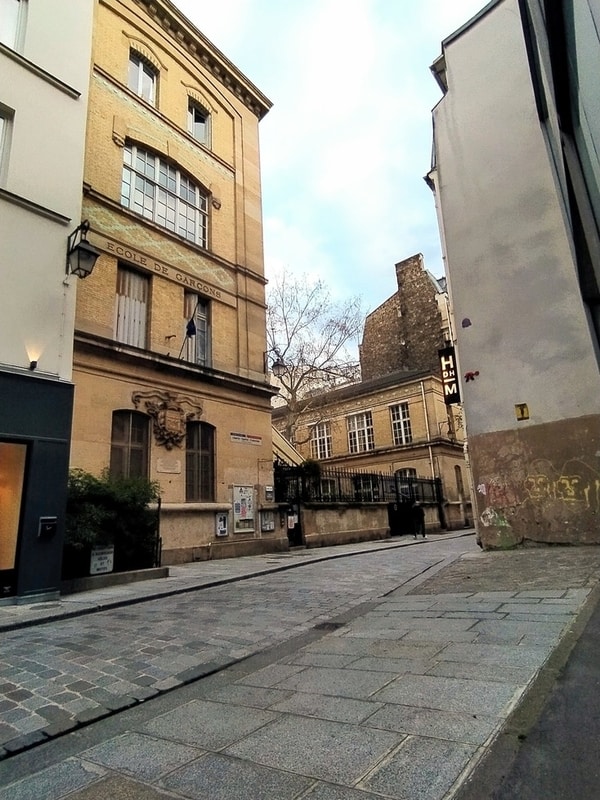 2: Tobacco-free zones
Paris is also fighting another form of air pollution that is harmful to children: tobacco smoke.
France somewhat unfairly holds a reputation in some circles as "Europe's chimney". But in recent years, anti-smoking efforts have borne fruit, with fewer and fewer tobacco addicts: in 2019, 24% of French people between the ages of 18 and 75 were lighting up every day, a 16% reduction compared with 2014. This progress is welcome, and we can hope it will continue: in 2015, 13% of deaths in mainland France were associated with addiction to cigarettes.
Passive smoking also kills: according to the French health ministry it causes somewhere between 3000 and 5000 deaths in the country every year. Besides the well-known risks of cancer and heart problems, passive smoking dramatically increases the number of lower respiratory infections, ear infections and asthma attacks in children.
Smoking bans have proven an effective way to combat these problems. For example, smoking in enclosed public spaces was banned in Scotland in 2006; a study by the University of Glasgow found that over the three years that followed, hospital admissions for children with asthma fell 18% each year. Prior to the prohibition, such admissions had been increasing at a rate of 5% annually. France introduced a similar ban in 2007 and 2008.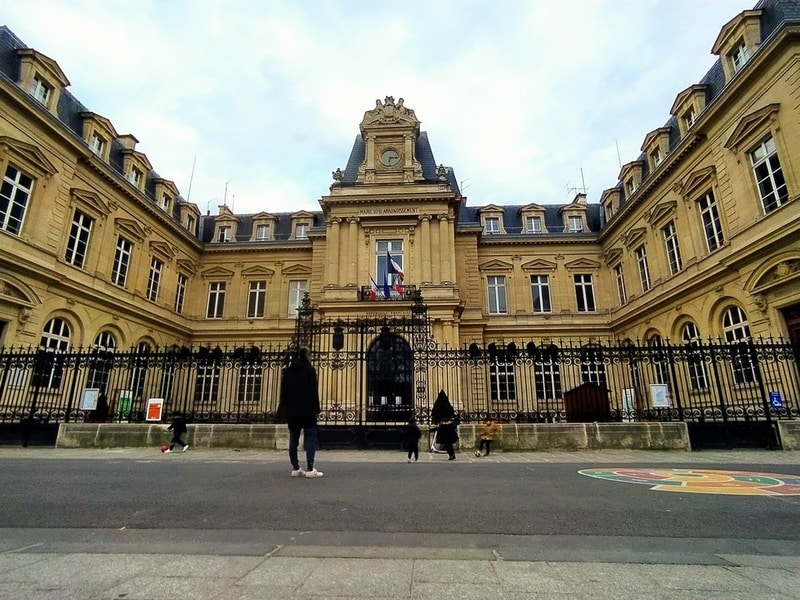 Following the overwhelming success of the indoor smoking ban, Paris has recently begun creating smoke-free outdoor spaces for children. In 2015, the 500 play areas in the city's parks were made tobacco-free; in 2019, this was extended to the entirety of 52 parks. Since then, many school entrances and other streets popular with children have seen similar bans. One of the most recent examples is the rue Eugène-Spuller, the pedestrianised street in front of Paris Centre's town hall3, where children can often be seen playing.
3: Places to play
Paris is a very dense city. The eastern and northern arrondissements in particular have some of Europe's highest population densities. Consequently, green space is at a premium. The current circumstances have thrown that into sharp perspective: with the city newly locked down – but with citizens encouraged to spend time outdoors – the capital's parks and garden squares are teeming with people.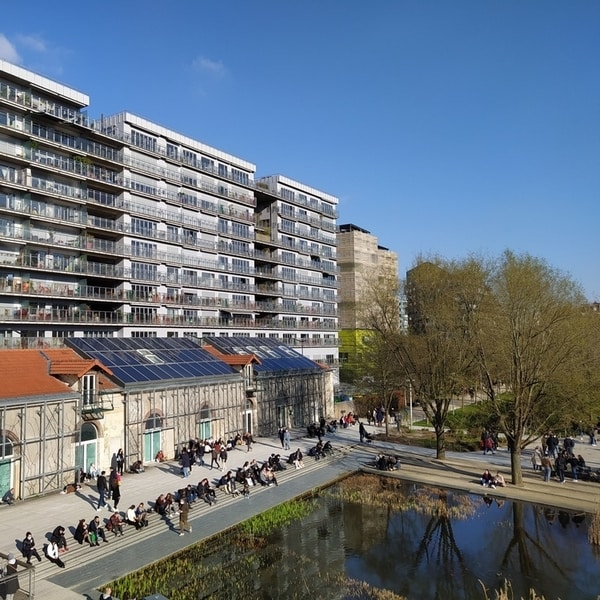 The City has made major efforts in this regard in recent years, with dozens of small new public gardens opening up as well as some more sizeable affairs like the Parc Clichy-Batignolles – Martin-Luther-King. Children's play equipment lines the Parc Rives de Seine, where until 2016, a controlled-access highway kept pedestrians of all ages away from the river.
Paris's wider efforts to reduce car traffic across the board are to be welcomed, as the danger posed by cars represents the biggest impediment to play for children. As Marianne Mannello told the Reasons to be Cheerful podcast: "Children report that the biggest barrier [to play] is traffic. The second biggest barrier that children report is parental fears. The biggest parental fear is the speed and volume of traffic". A similar point was made by an earlier episode of The War on Cars podcast.
In one particularly brilliant idea currently being trialled in the capital, school playgrounds are being opened up at weekends. This simple idea is part of the 15-minute city popularised by French-Colombian professor Carlos Moreno and championed by Paris mayor Anne Hidalgo. The concept of the ville du quart d'heure (as it's rendered in French) is the antithesis of the strictly zoned nature of many 20th-century cities: by dispersing workplaces, schools, public buildings and leisure facilities across the city, it gives people the ability, if they so choose, to live most of their lives within a 15-minute walk of their home. By encouraging walkability, this concept has clear environmental benefits, but there's also a social justice element: bringing people in all neighbourhoods closer to the things that matter to them reduces the inequalities of place that are common in cities.
When it comes to open spaces, Paris's spacial inequalities are obvious. Some people can stroll to the Jardin du Luxembourg or the Parc Monceau in 15 minutes, while others have only tiny pocket parks which quickly fill up with people. But there are schools in every neighbourhood: indeed a study published last autumn found Paris to be the best of the world's major cities for easy walking access to education and healthcare, with 85% of inhabitants living within 1 km of both. With this in mind, it makes perfect sense to open up schoolyards as extra spaces for children to play.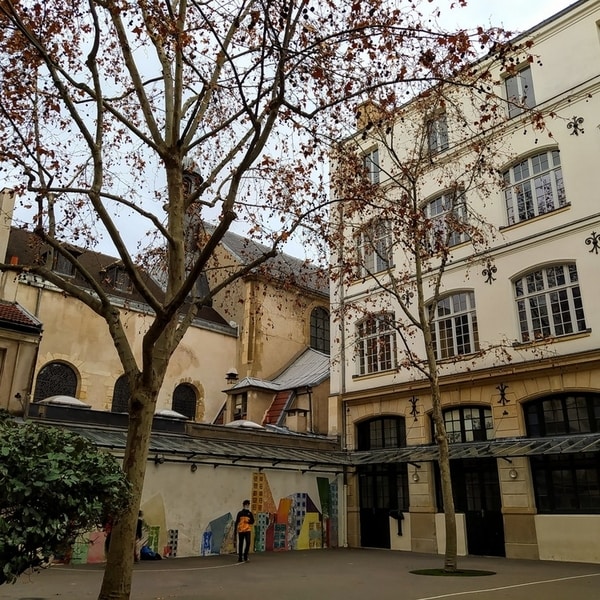 Of course, not all open spaces are equal. Simply opening a tarmac playground is good insofar as it gives children somewhere to play, but that's only the beginning. As Patrick Sisson details in a piece for City Monitor, school courtyards can be a tool in mitigating the worst of the increasing number of extreme hot weather events. By adding vegetation, improving drainage and providing fountains, these spaces can be transformed into "cool islands" (îlots de fraicheur). The path to increasing climate resilience lies in part in returning to nature, and these new spaces (dubbed "Oasis courtyards") are a big step in that direction.
The idea is currently being trialled, with 12 schoolyards around the city opening on Saturdays between January and April 2021.
Bonus: inclusive participatory budgeting
While not of specific benefit to children, Paris's Budget Participatif (participatory budget) is open to "all Parisians, regardless of age or nationality". I'll write more about the Budget Participatif in a future post, but the idea is simple: a portion of the annual budget of the city is assigned to projects proposed and voted for by its citizens. Each year €100 million is allocated to a wide variety of projects, organised into themes including sport, culture, transport and social cohesion. In a time when citizens feel a widening gulf between themselves and their elected representatives, democratic initiatives like this can help to create a sense of belonging in the population by putting faith in "ordinary" people. But to my mind the most radical aspect of the scheme is that it puts that faith not only in adult French nationals, but in all stakeholders. Rather than ignoring children, why not invite them in?
For an interesting discussion of the tank-like 2021 Cadillac Escalade, and more generally the worrying trend of ever-larger SUVs (as well as the problems of auto journalism), see this recent episode of The War on Cars podcast. ↩

The roads remain accessible to emergency and delivery vehicles and disabled people. ↩

The administrative sector Paris Centre was created in 2020 and groups together the city's first four arrondissements. The town hall was previously that of the 3rd arrondissement. ↩